Located on the roof of the building's parking garage and overlooking Baltimore's iconic waterfront the renovation of 100 Light Street Plaza was initiated by a multi-million-dollar water-proofing project. As part of a broad rebranding effort, COPT challenged Floura Teeter to reimage this vital plaza, to embrace new materials, dynamic landforms, planting, and to create true people-centric spaces.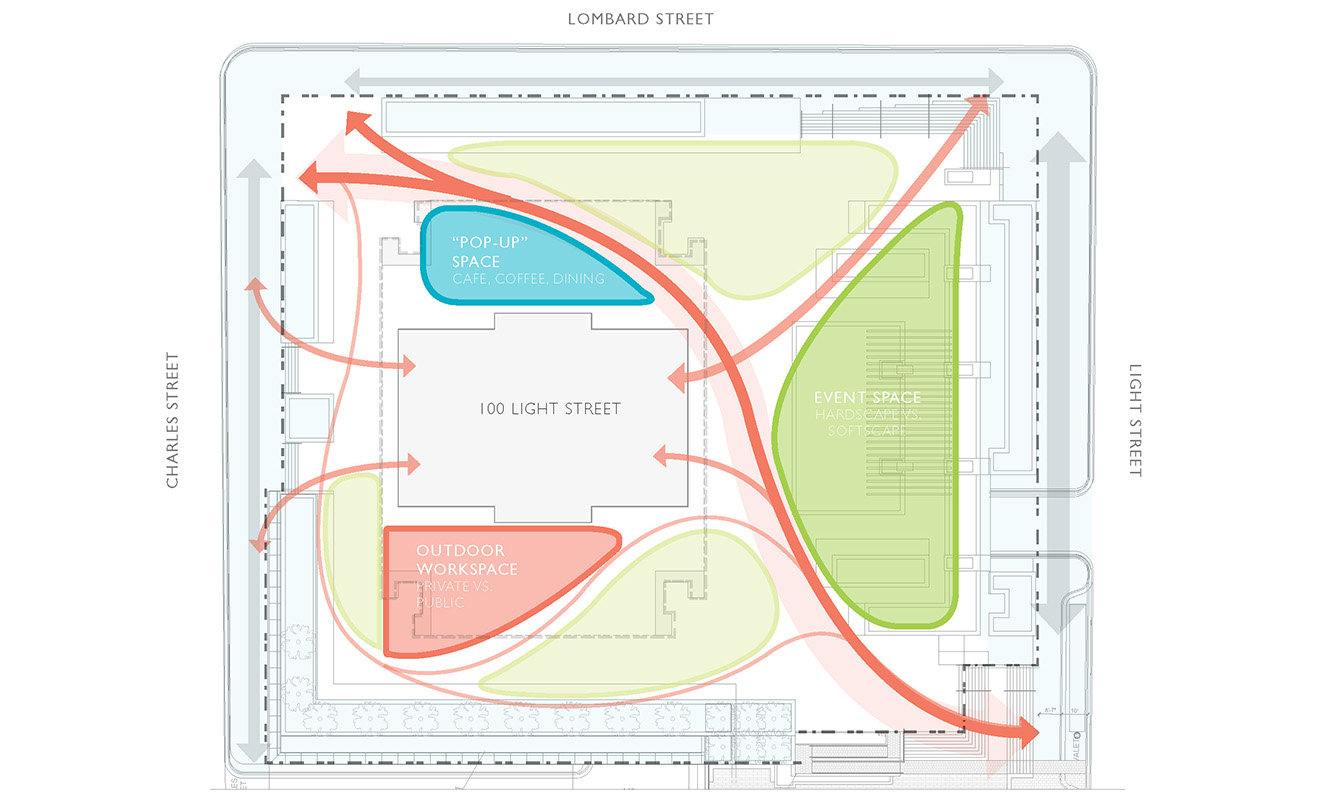 Approach
Through collaboration, the design team imagined a lush, dynamic landscape and then carved out circulation and gathering areas. The result is a fluid, organic, people-focused environment complementing the city framework and 40-story office tower.
Details
Built completely on structure, Light Street Plaza encompasses nearly a full city block. To achieve the desired planting vision, Floura Teeter collaborated with design partners to create visually dynamic planters using concrete curbs, sculpted Corten metal, integrated seating platforms, and retaining walls. Design elements were carefully coordinated with the existing structural slab and drainage, using lightweight manufactured soils, insulation layers for mounded planting, and placement of large trees aligned to the structural grid. Sweeping paving bands accentuate pedestrian movements and define spaces. Movable tables and chairs, oversized seating platforms, benches, and a natural turf lawn offer tenants a comfortable outdoor environment for both work and play.
The Floura Teeter team came up with a very creative plaza design that was not only pleasing to the eye but also worked well within the existing conditions of a difficult site. At nearly a full city block, they did a nice job of carving out different areas that range from enjoying your lunch alone to hanging with a large group of coworkers to celebrate someone's birthday.

Mark Wendell, AIA, Senior Manager – Design + Development, COPT