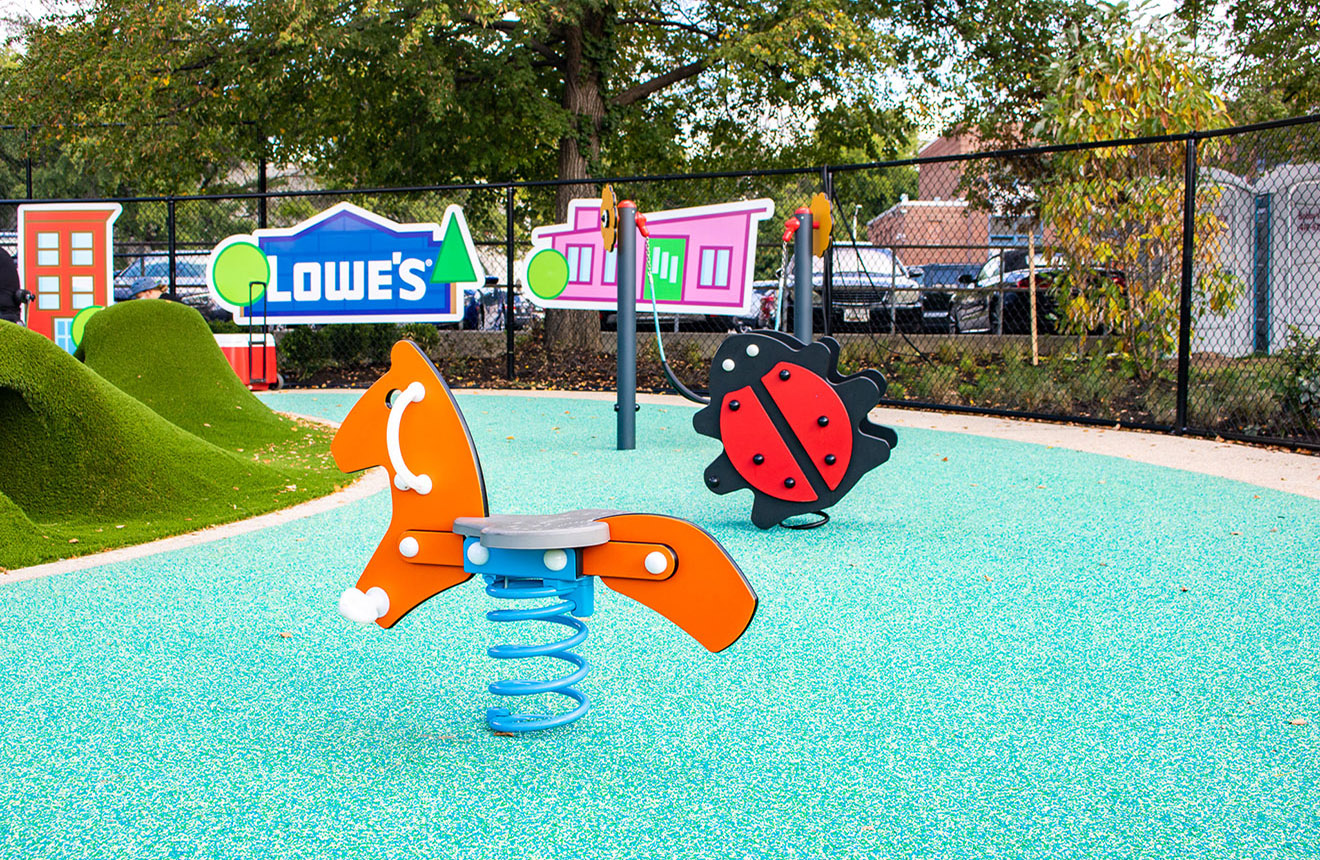 Located in Central Southwest Baltimore, the Poppleton neighborhood is near the University of MD Medical campus, Camden Yards, M&T Bank Stadium, and the Inner Harbor. Under resourced for many years, this resilient neighborhood has a vibrant community of residents with new residential buildings both planned and recently completed.
The Excel Academy at Francis M. Wood High School is an alternate placement school for students in grades 7-12. The Poppleton Family Center provides early childhood education and support services for children 8 weeks to 24 months of age; the program offers student parents of the Excel Academy full-day childcare, allowing students to graduate high school.
The United Way of Central Maryland worked with the University of Maryland, Baltimore to develop the Family Center. An essential part of the Center is the outdoor space which provides safe active play and learning for the kids.
Planning the Playspace
Floura Teeter Landscape Architects worked with Poppleton Family Center's teaching staff to design an engaging and safe outdoor environment to complement their early childhood curriculum, "Infant, Toddlers and Twos". The goal was to create a space for active play and to support the critical educational needs of early childhood – and to be accomplished in the 8500 square feet available.
Challenges
Lead-contaminated soils brought significant difficulties to both the planning and construction of the play area. These existing soils were removed and replaced; other design elements like concrete walks, artificial turf, and poured in place playground surfacing provide a protective cap.
Designed and built during COVID, the concern for safety at all times provided ever-changing variables. Shipping delays impacted the availability of some materials; generous donations by Lowes Home Improvement mitigated that challenge somewhat, but the project was then limited to the materials that Lowes currently had in stock.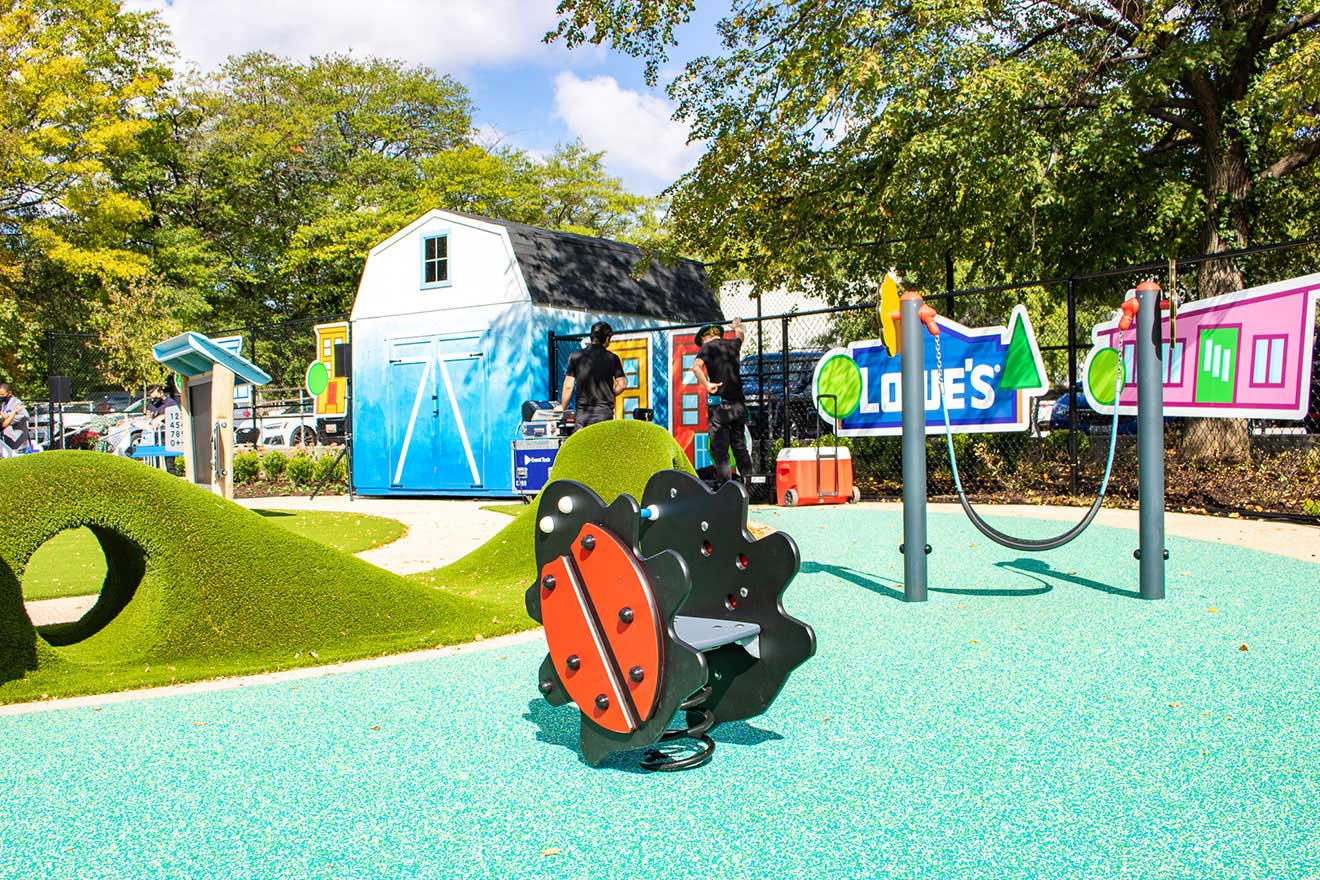 The Fun Stuff
The playspace is only a short distance from the indoor classroom, encouraging easy and frequent use. Entrance to the secure playground is through a new trellis and gate; the new fence is animated with a series of graphics that depict a variety of houses…including iconic Baltimore row homes.
It features an open lawn, circular path, play mounds and tunnels, play equipment, picnic tables, seat walls, and storage shed. New shade trees and kid-friendly planting included native species with a variety of colorful flowers, textures, and smells. The artificial turf lawn provides a low-maintenance option for open play and tactile stimulation for the youngest children. The path provides a tricycle speedway and allows independent exploration within safe proximity of caregivers. Dynamic play options, toddler sized flower swings, and animal-shaped springers offer a variety of elements for parallel play suited to young children.
A 'College Center' with chalk board and magnetic letters and numbers can be used for interactive play as well as a place for outdoor learning.
Ample seating provides areas for caregivers to engage with children, have lunch, create lesson plans, or read books. The colorful shed stores toys, scooters, and over-sized building blocks.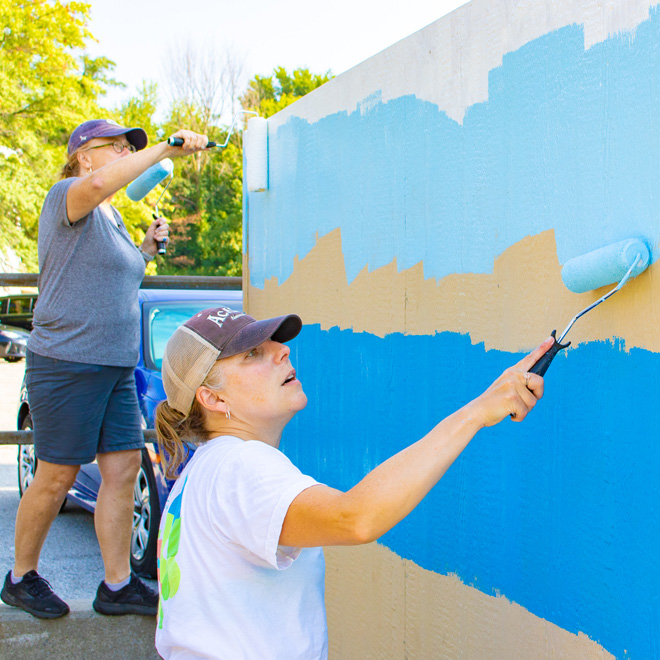 The Helpers
This playspace was funded, designed, permitted, and constructed through a group of volunteers and donations from Floura Teeter, Corporate Office Properties Trust, Plano-Coudon Construction, Lowes Home Improvement, MRA civil engineers, UrbanGreen environmental services, and Image360 graphics.
In addition to the donations of actual materials, volunteers from the design and construction team were on hand to help with setup and installation of various elements in the playspace. Construction during the pandemic required creative volunteer interaction, but Floura Teeter used a hot August morning to engage a team of employee-volunteers to have fun painting the storage shed.
This article first appeared in the December 2021 issue of Landscape Architect and Specifier News.