Baltimore is a diverse and vibrant city, defined by many neighborhoods of distinct character and pride. More than 600,000 citizens are served by the Baltimore City Department of Recreation and Parks (BCRP), which is supported by a variety of friends groups and nonprofit organizations such as the Parks & People Foundation.
The city's park system provides residents with over 4,600 acres of natural and recreational assets. Frederick Law Olmsted designed it in 1906 — his sons updated it in 1924 — and it includes several "anchor" parks, like Druid Hill, Patterson and Leakin Parks, and many smaller parks, each providing important access to nature and recreation for Baltimoreans.
Assessing Equity
Baltimore, like many cities, has a long history of inequitable distribution of resources. The park system is no exception. Historic policies and events, including real estate redlining, the decline of the streetcars, white flight, the 1986 race riots and inequitable investment in minority communities, have resulted in significant pockets of poverty and disinvestment on the city's west and east sides.
A map of the city depicts a 'black butterfly' and 'white L,' illustrating the distribution of the city's racial composition. This racial distribution – overlaid with the city's park system, walkability map, heat island, vacancies and crime rates – highlights the correlation between these data sets. The most vacant, violent areas, and hottest temperatures are directly related to a lack of walkable, quality park space.
Today, BCRP and other city agencies are working to establish goals and metrics to ensure that all neighborhoods receive equitable investment. This does not mean that every place receives the same investment or amenities, but rather, that all residents have access to similar resources throughout the city. The following six metrics have been established to assess the success of various parks: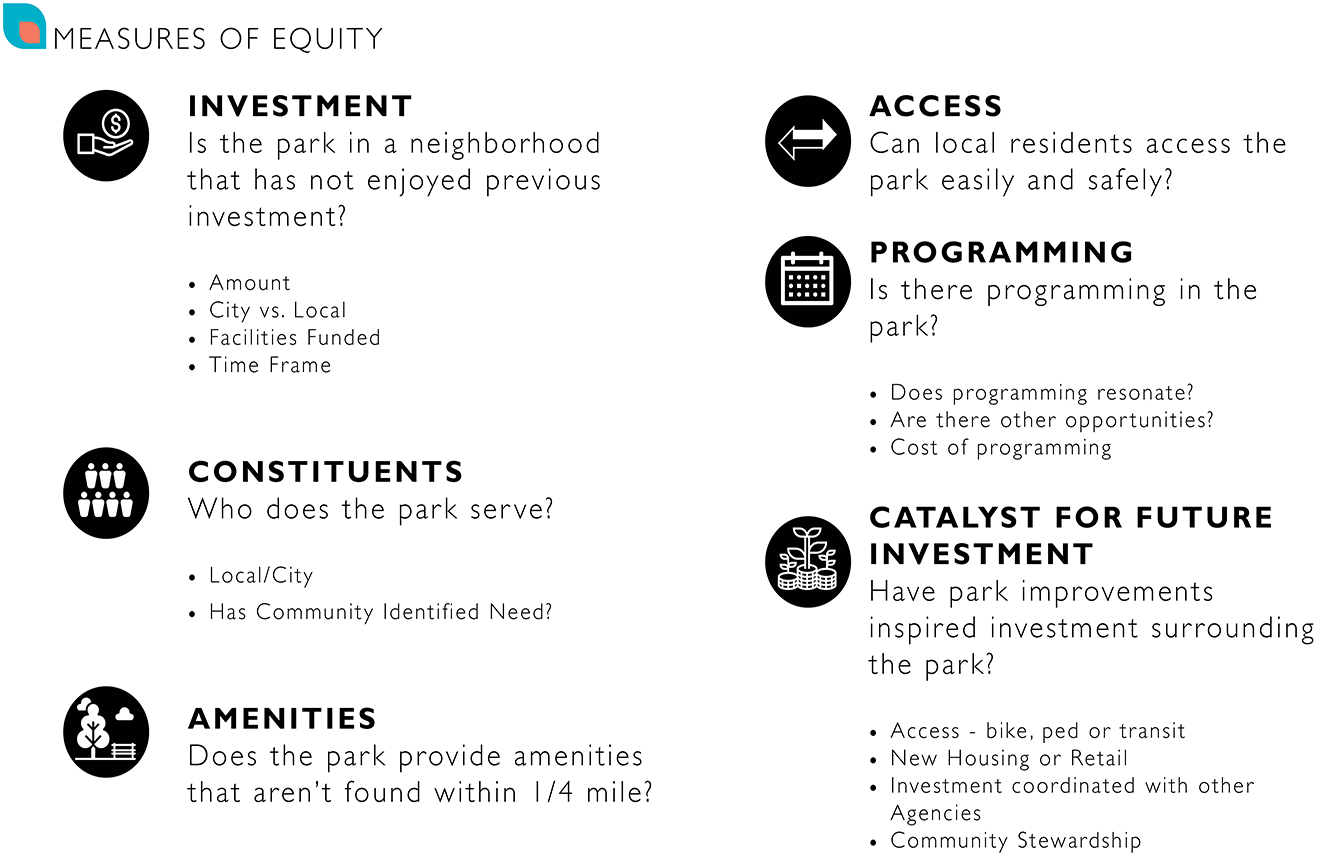 Investment – Is the park in a neighborhood that has not received previous investment, which can be defined by the amount of funding, types of facilities funded, whether it serves the entire city or local residents and how much investment is planned over time?
Constituents – Whom does the park serve? Is it a local or citywide park? Has the community identified a need and participated in the planning process?
Amenities – Does the park provide amenities that are not found nearby or provide facilities within a quarter-mile of home?
Access – Can residents access the park easily and safely? Barriers, both physical and perceived, can define access. People may not feel comfortable or safe crossing busy streets or traveling through different neighborhoods.
Programming – Is there programming in the park? Does it resonate with residents? Are there additional opportunities for activities?
Catalyst for Future Investment – Have park improvements inspired investments, such as access (bike lanes or sidewalks), new housing or retail or renovations to the existing urban fabric surrounding the park?
Evaluation
Three parks within Baltimore City – Florence Cummins Park, Canton Waterfront Park, and Henrietta Lacks Educational Park – have been evaluated using these metrics to demonstrate how each park will serve the goal of social equity:
Florence Cummins Park
A master plan for the next 10 years recently was developed for this park, located in the Westport neighborhood of South Baltimore. With the help of the community, a program was established that included playgrounds, a refurbished and lighted basketball court, and a baseball and multipurpose field, anchored by a community pavilion, grill area, and splash pad. This park, with funding for the master plan and implementation provided by South Baltimore Gateway Partnership and BCRP, ranks high on the equity metrics. A Kaboom Playground has already been installed and phased implementation of other master plan elements will begin soon, creating important recreational resources for this under-invested community.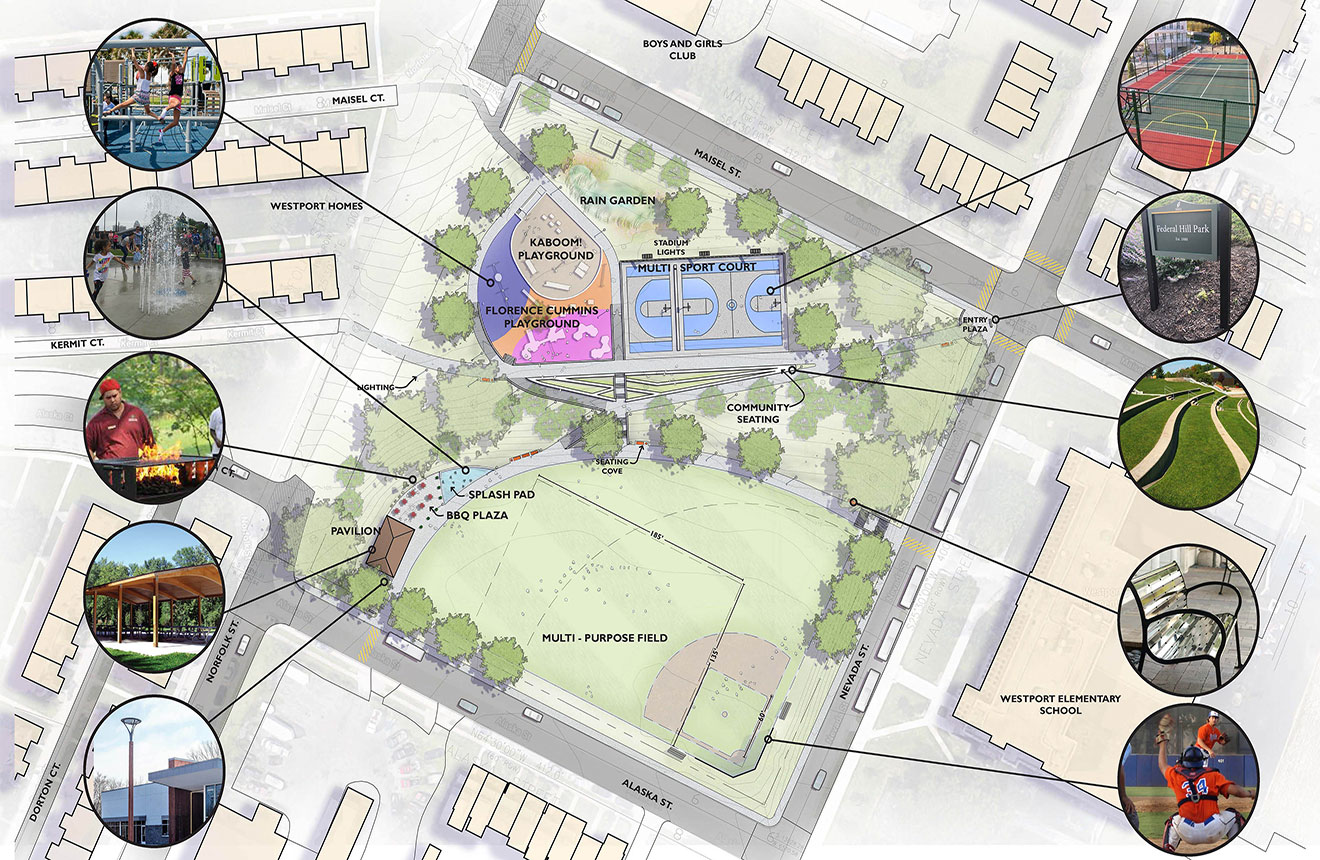 Canton Waterfront Park
While Canton is one of Baltimore's wealthiest neighborhoods, this park provides equity by being one of few green public waterfront parks in a part of the city that is densely populated and impacted by heat island. A robust community process ensured that its long-term improvement will serve all city residents as well as locals. The planning process included improvements to park access for bicyclists and pedestrians, especially families with young children, as well as infrastructure for special events, a playground and connection to the Rail-to-Trail network.
Henrietta Lacks Educational Park
Formerly known as Ambrose Kennedy, this park was a neglected 1.75 acres in the Johnston Square Community. Today, Henrietta Lacks Educational Park is a model for 21st century parks in Baltimore. Its reinvestment was sparked by Rebuild Johnston Square, which rallied partners to make drastic changes to revive the heart of the community. In 2017, Parks & People collaborated with BCRP, Rebuild Johnston Square, BUILD and The 6th Branch to re-envision the park. These efforts resulted in the creation of new walking paths, stormwater management, landscaping, bathrooms to serve the existing pool, a splash pad, new basketball courts and lighting for the park. It now serves more than 11,000 people living within walking distance, including students of the adjacent Johnston Square Elementary School and residents of Latrobe Homes, a 701-unit public housing building.
Rising Toward Prosperity
Equity cannot be achieved without the restoration of funding for the parks department to historic levels. Since the 1960s, park funding has decreased by 60 percent; yet, the city has more parkland and constituent services needs. As in many cities, parks suffer from deferred or lack of maintenance and aging infrastructure.
A new model for park funding is needed to address equity issues within Baltimore's park system. Focusing the equity lens on the development of new parks, maintenance of existing parks and programming will help Baltimore rise toward prosperity.